Capturing a Screenshot
... thanks, @santha!
I have never felt so dumb as I did when I found out that there is a very simple way to get a Screenshot of exactly what you're seeing on your computer screen.
Try this:
Just press the 'Print Screen' button of your keyboard and that's it!
Now open your Graphic Editor program like MS Paint or Adobe Photoshop or Corel PhotoPaint and just use the 'Edit -> Paste' command in the program and voila! you should have a copy of the computer screen to crop, re-size, edit, alter etc.
Here's a sample screenshot of this screen: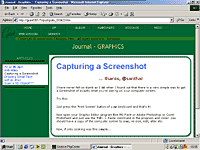 This is from a message I received from Tony:
"If a window is all that you desire instead of the entire screen press "Alt + Print-Screen" keys to get the active window."
Now, if only cooking was this simple...